At Enstall, we pride ourselves on an end-to-end professional insulation installation service for our clients.  Our regular positive feedback from builders and homeowners gives us the confidence we are meeting that objective each day.
This is not by chance.  We work endlessly to improve the knowledge and competencies of the entire team, and continuous improvement to our systems to deliver superior services.  A strong example of this is the recent confirmation of training by 10 of our professional Enstall team members; completing the NZQA Insulation Install qualification through BCITO.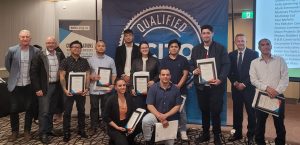 Choosing a professional insulation installer:
Expertise:
Professional installers have the knowledge and experience to properly install insulation in a way that maximizes its effectiveness and efficiency.
Safety:
Installing insulation can be challenging and potentially hazardous, especially when working at heights, or in tight locations.  Professional installers have the proper equipment and training to ensure the installation process is safe for everyone involved.
Time-saving:
Professional installers can complete the job quickly and efficiently, often in a fraction of the time it would take a homeowner or a builder to do it themselves.
Cost-saving:
Although there is a cost associated with hiring a professional insulation installer, doing so saves money in the long run.  Not only do you get the project completed right the first time without delays to your project, but the additional long-term savings from properly installed insulation can also reduce energy bills and prevent damage to the home.
Warranty:
At Enstall we offer a warranty on our work. This gives homeowners and builders peace of mind knowing if something goes wrong, we can help.
Overall, hiring a professional insulation installer such as Enstall Insulation provides numerous benefits, including expertise, safety, time-saving, cost-saving, and warranty protection.
Contact us now to help save your time and money.