Recycled content in the insulation we use.
At Enstall, where possible we select products and brands that include recycled content.  Not only does this help reduce single-use applications, but it also means we can install insulation solutions to you more cost-effectively.
The glasswool products we install, including Knauf Glasswool, Pink Batts and Bradford Gold, all include recycled glass in their manufacturing, and in some instances up to or even more than 80% of the fibre content.
The polyester insulation options from Greenstuf, Mammoth and others all include a mix of recycled fibre from local sources, and use fresh fibre created from recycled plastic bottles.
The sheep wool insulation from Terra Lana and others utilises recycled sheep's wool from the carpet industry, together with recycled polyester fibre from installers like us, mixed with fresh polyester fibre from recycled plastic bottles.
We think that is a great start to providing our customers with high-quality products with a high level of recycled content right from the start.
1.  Reduce waste
Our install teams do their best to minimise the wastage of the insulation products.  No matter how well we install though, there are always occasional off-cuts and small amounts remaining following our installation processes.  Our teams are trained to install with minimal waste.
2.  Re-use bi-products
Where possible, we are able to re-use some of the off-cuts for future projects and specialised applications.
3.  Recycle off-cuts
Some off-cuts are too small or uneconomic to re-use as insulation in buildings.  Particularly for polyester insulation products, we don't want to throw the off-cuts straight into landfill.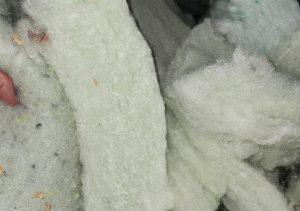 For these polyester and sheep's wool insulation products, we are fortunate to return the offcuts to be re-processed into fresh insulation.  One of our long-standing suppliers – Textile Products – who are one of the largest textile recycling companies in NZ takes our polyester & sheep's wool offcuts and reprocesses them into fresh insulation and other products.  They re-open the fibres and blend them with fresh polyester and sheep's wool fibres to keep that circular activity continuously operating.
Textile Products also take water damaged or end-of-life polyester and sheepswool insulation products.
Closed loop
We are happy to work daily in closing as many loops as we can in the recycling processes.